The area inside the red bubble is our main delivery area where delivery fees range fro $5-25 depending on how far out the area is. If you are located outside this area please check out the next map and paragraph.
Cities (Alphabetical Order)
A - D
Ama - $25
Avondale. - $25
Boutte - $25
Bridge City - $25
Destrehan - $10
Elmwood - $5
Gentilly - $5
E - K
Gretna - $10
Harahan - $5
Hahnville - $50
Harvey - $10
Kenner - $5
Laplace - $10
Luling - $25
L - P
Metairie - $5
Montz - $10
New Orleans - $5
Norco - $10
Paradis - $25
Reserve.- $25
R - W
River Ridge - $5
St. Rose - $5
Terrytown - $10
Waggaman - $25
Westwego - $25
Woodmere - $10
Northshore Delivery Area - ($750-1000 minimum order)
We are starting deliveries to the Northshore including most cities. If you don't see yours give us a call (504) 467-9424

Abita Springs - $100
Covington - $100
Lacombe - $100
Madisonville - $100
Mandeville - $100
Pearl River - $100
Slidell - $100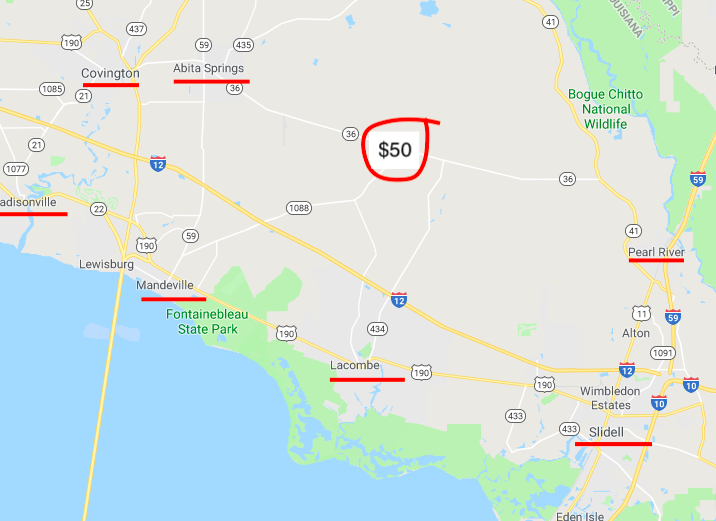 Extended Delivery Area
This is our Extended Delivery Area. We require a $750 minimum order on weekdays and $1000 on weekends. We also charge $0.50/mile from our warehouse to the setup location and back.This is for same day events between 10am-5pm. If your event is earlier or later than those times, then we may need to come the day before or leave the day after which will require additional fees such as hotel, etc. Please call to book an event in our extended delivery area.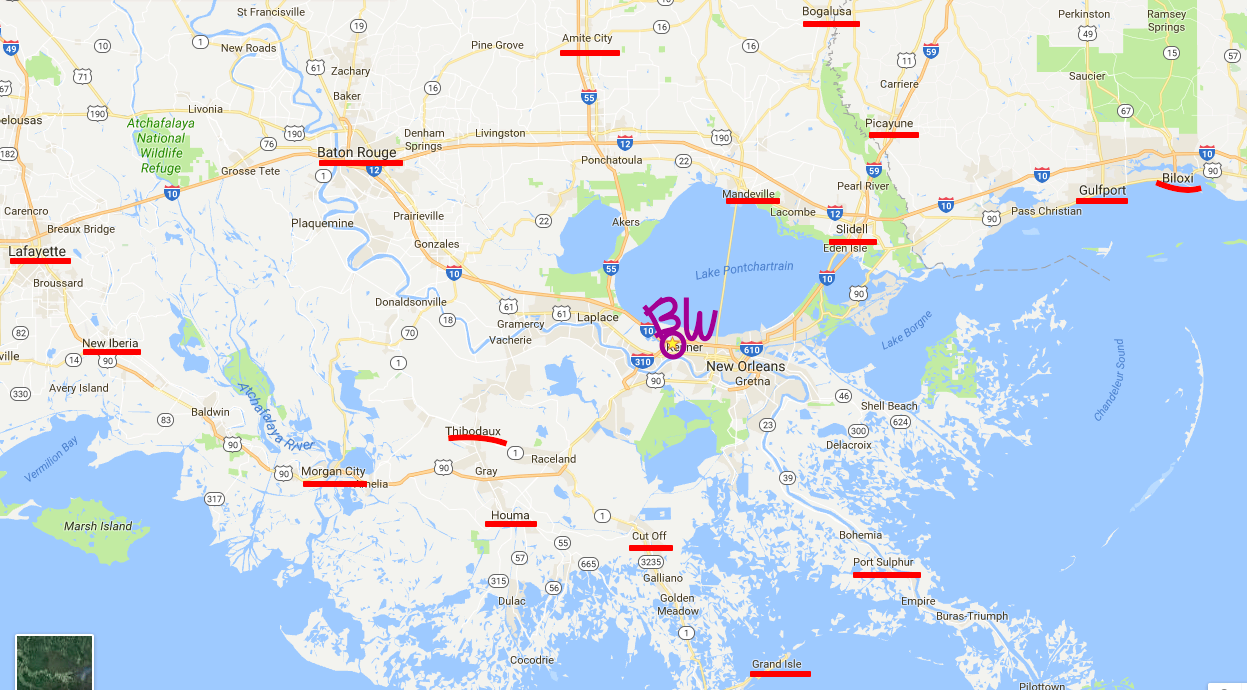 A-D
Amite City
Baton Rouge
Biloxi
Bogalusa
Cut-off
Covington
Denham Springs
E-K
Gonzales
Gramercy
Grand Isle
Gulfport
Houma
L-P
Lafayette
Mandeville
Morgan City
New Iberia
Picayune
Port Sulfur
R-W
Raceland
Slidell
Thibodeaux
Vacherie
Parks & Playgrounds - $25
We deliver to almost every park or playground.
(Exceptions: Bayou Segnette & Brechtel Park)

For Park deliveries we require a 1 hour setup and pickup window in order to be able to get your unit setup and picked up on time.

Some parks have power, some don't. Customer is responsible for power for the rented items. We rent generators if needed.

Additional Insured Certificates are available.
Commercial Locations - $25
We can deliver to most commercial locations.

Locations like a parking lot, grass field etc. are preferred but we can go up elevators for an extra fee. If your location requires special delivery instructions like where to park or passing through security please inform us when you place the order.

Additional Insured Certificates are available upon request and additional fee.
We deliver to any school or church in the New Orleans area.

We require at least a 1 hour setup and pickup window in order to deliver and pickup your rented items on time.

Customer is responsible for power. We rent generators if needed.

Additional Insured is available with additional fee.