-BACK YARD OR FRONT...check to make sure there is enough space where you want to put the game. We provide the size of each game online before you checkout

-IS YOUR GATE BIG ENOUGH?...We will need to fit our dolly through your gate (36" at least)

-GRASS OR CONCRETE...We will bring Stakes or Sandbags accordingly

-POWER LINES & TREES...Check for low hanging lines and trees that could scrape the inflatable, also mark off all under ground water, power, or gas lines

-OTHER OBSTACLES IN THE YARD...Make sure there is enough room in your yard, check for trees, play sets, pools, sheds or whatever else could inhibit us from setting up the game
-DISTANCE FOR EACH...We require power no more than 100 feet away and water connection(for wet games) no more than 50 feet away from where the game will be placed. We must use our power cords. DO NOT relocate the power after we have setup the unit.

-PROPER POWER FOR THE INFLATABLE...We need a DEDICATED 20 AMP circuit for each blower required for your inflatable. Loss of power can be very dangerous. So this is important. If you are providing power and loss of power occurs, no refunds will be provided.

-WATER FOR WET GAMES...Some wet games require just one hose, others require multiple hose hookups. Check with us when you rent the wet game how many it will need. We also rent hose splitters if you need them.
-FOR TODDLERS...Our Toddler Games are perfect for your youngsters ages 3-7yrs old.

-FOR KIDS...We have a variety of games that are perfect for young kids, visit our main category page

-FOR TEENS...Our larger inflatables are great for teenagers

-FOR ADULTS...Adults can still have fun on inflatables, check out our interactive and obstacle course.

-NUMBER OF PARTICIPANTS...Pick an appropriately sized game for the number of kids.

-MONITORS...Each unit requires 1 monitors. Check with us for how many you will need.

-Weight Limit... A weight limit of 200 per rider is applied to every inflatable.
Before Rental:

Bounce World will never cancel your rental because of normal weather conditions. It is up to you to cancel. Rain, wind, cold, heat, flooding, power loss will not be reason for a refund after the unit is delivered.

Bounce World will only cancel your rental if the following unsafe reasons is known before being delivered: Excessive winds 15MPH , Tornados, Hurricanes, flooding, power grid loss. The reasons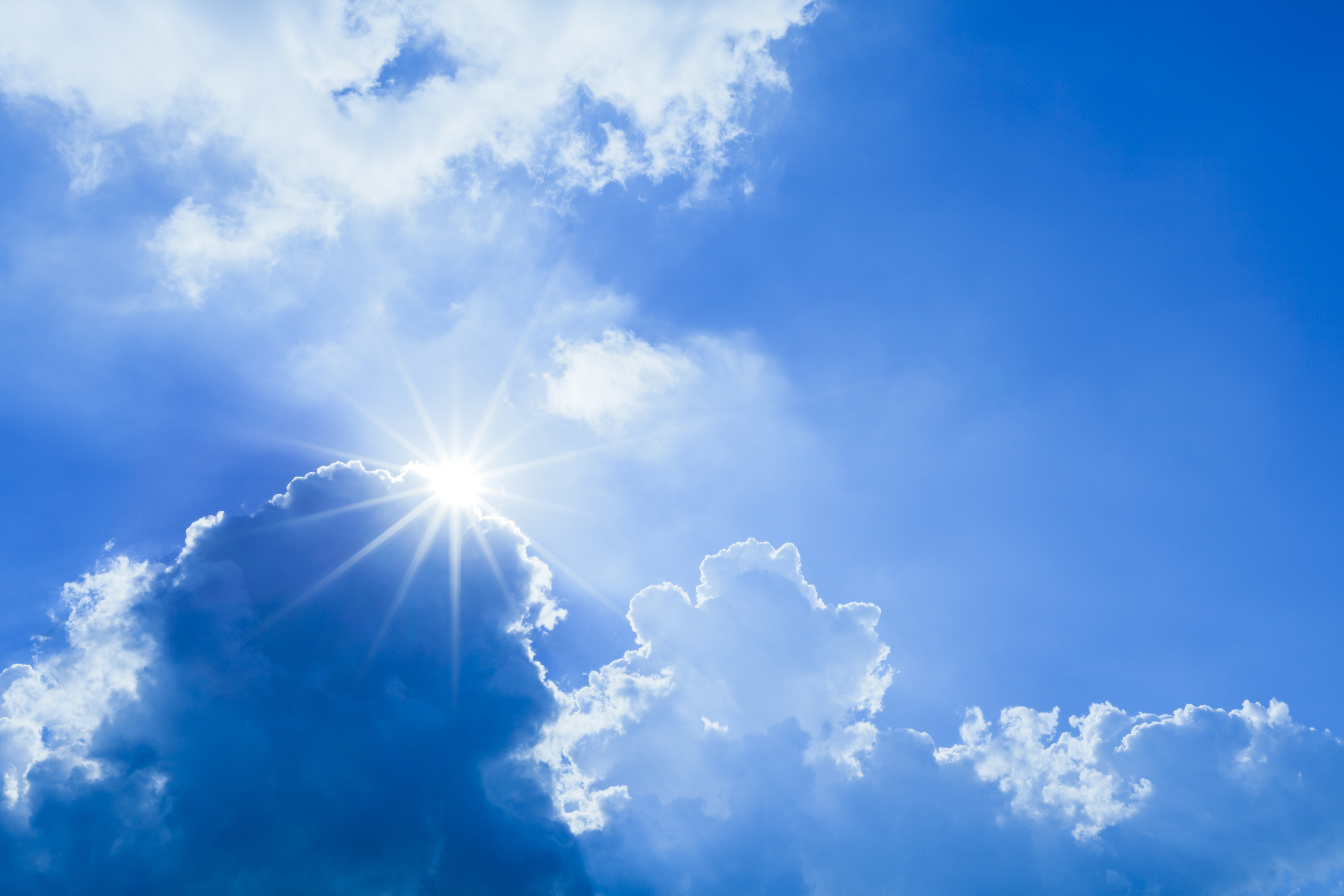 After Delivered:

If a wind event happens, remove players from game then deflate immediately by separating power cord from power source.

If flooding occurs, remove players, deflate unit and remove blower from flooding area.

If loss of power occurs, players on the unit should STAY on the unit UNTIL it completely deflates. Do not attempt to enter and get them off the partially deflated unit until it is completely deflated. Units are made to deflate slowly and safely.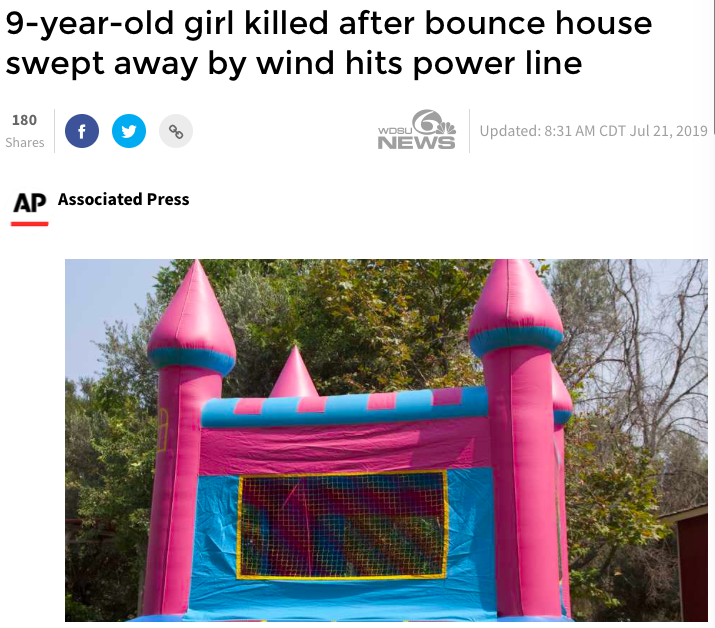 Safety in the Inflatable Business
We found this article over the weekend and it really hit home for us. Each week we deliver to dozens of locations and setup inflatables. Every single one of those setups needs to be perfect just in case anything goes wrong. After reading this article, from the initial report, it seemed like the game was anchored down the winds just picked up out of no where and lifted the bounce on to a power line... We have witnessed how powerful some wind can be on multiple occasions, luckily without anyone inside the units. Inflatables are basically big balloons that we do everything we can to secure to the ground whether it's stakes, tent stakes, sandbags or water barrels. But sometimes it's not enough. Other problems occur when the unit is setup to close to a power line, house gutter, fence, car, tree, etc. If something happens and the game deflates onto those items, serious injuries can occur. Other problems come from improper use of the equipment like mis-matched rider weights, exceeding the maximum weight or exceeding the total riders on each unit. So before renting an inflatables check the area where you want to have it setup and make sure it is free of all obstacles. Also if we come out to setup your game and we tell you we can't setup in a certain spot, we are only trying to prevent an incident. If you have any questions about safety, setup, staffing, etc. please call or email us and we will be more than happy to answer them! And please stay safe.

SIOTO Certified
Rental Tips!
Before you even commit to an operator you need to ask a few basic questions:
-Are they insured and will they supply a copy of the insurance certificate?
-Are they trained/experienced in inflatable operations?
-What safety measures do they provide YOU with?
(Price should not even be a consideration!)

After the operator arrives, they should do the following and it is your job to pay attention to help make sure its done properly.
-The unit should be staked down or heavily weighted down with ground weights or sandbags.
When the unit is inflated make sure there are no rips or holes visible.
-Make sure the unit is fully inflated and not sagging anywhere.
-The operator MUST cover all operating and safety procedures verbally, and should leave printed instructions as well.
-It is your responsibility to ask questions if you do not understand anything particular.

After the operator leaves, you should always:
-Attend the unit at all times.
-Keep children age 3 and under OUT of the unit.
-Make sure all children are grouped according to SIZE.
-DO NOT exceed the maximum ride capacity at any time.
-Perform safety checks of the equipment frequently. Operators will show you how.
-Turn the unit off during inclement weather or high winds.
-Seek medical attention for ALL injuries IF they occur.
-Follow ALL posted safety rules at all times.
All Combo Bounce Houses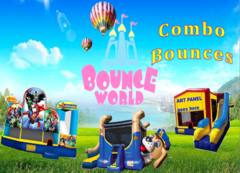 Kiddie Bounces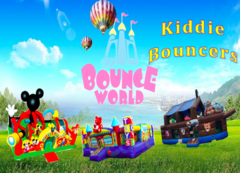 Bounce Houses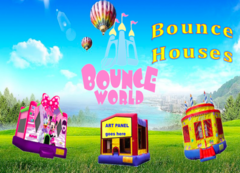 Obstacle Courses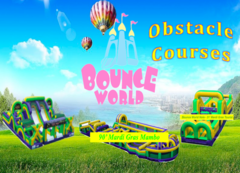 Carnival Games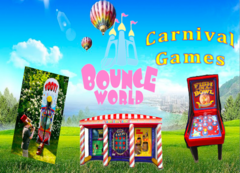 SPORTS GAMES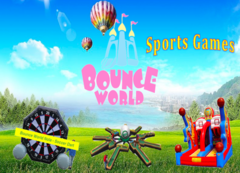 DRY SLIDES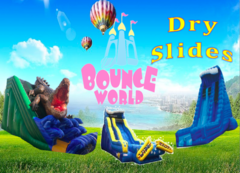 INTERACTIVE GAMES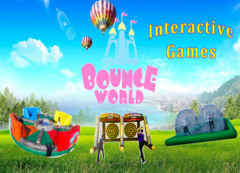 Target Games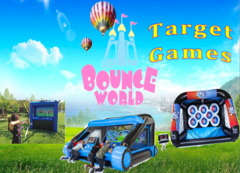 Concessions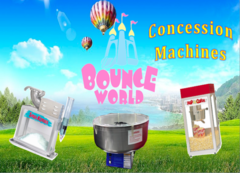 Seating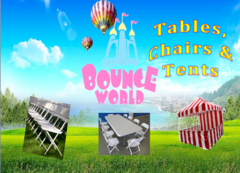 Party Extras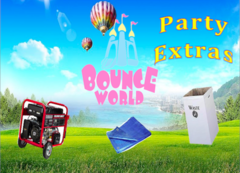 Rock Wall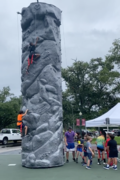 All PACKAGES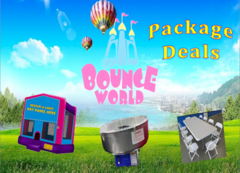 Bounce Packages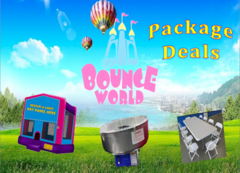 Combo Bounce Packages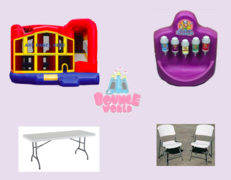 Slide Packages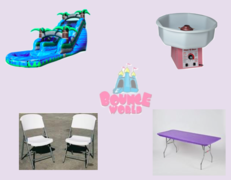 Game Packages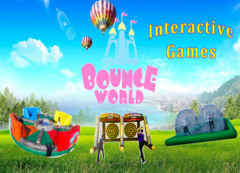 Fundraiser Items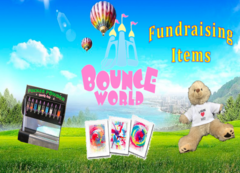 Gear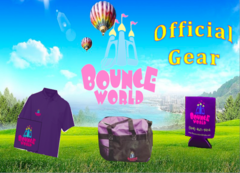 Art Panels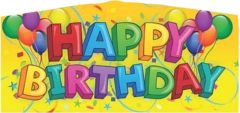 All Water Slides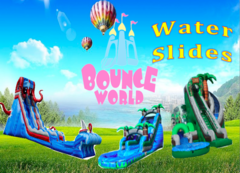 Wet Games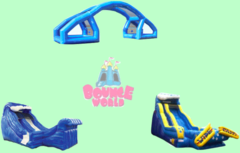 Waterslides