Here at Bounce World Nola we are committed to the safety of all who rent and play on our games. Because of that we are making sure we clean each unit with virus killing sanitizers between each rental.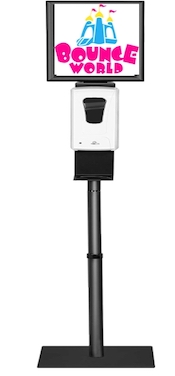 We are also offering these Hand Sanitizer stands to place in front of each game at your next event! Now each participant can make sure they are clean before they use play on that game.
Inflatables
Archery Tag
Stuff-a-Bear
Money Machine
$2 million insurance
Trained staff & Supervisor
Proper setup
Safe games from established manufacturers
Popular Project Grad Games
Hungry Hippo
Our most popular game for 2017 for fairs, project grads and more. It's a mix of the original bungee run and the old board game!
Shooting Gallery
Teams of 2 compete to shoot the most target. Score is kept on the LED display for spectators to see
Duelling Axe Throw
2 players compete to see who can stick the most foam axes on the velcro board
Knocker Soccer
Who doesn't want to get in the ball and run into each other? And of course play soccer at the same time!
Zorb Balls
A favorite by almost any age and group! This is a must have at your event!
Cash Cube
Great for give-a-ways and prizes for any project graduation!
Contact Us for more Information