Mega Obstacle Course Challenge
$2500 + travel
Start by trying to jump from ball to ball to make it across our 50 foot wide, Big Ball Jump.Then race your friends through 125 feet of obstacles, including tires, slides, vertical and horizontal obstacles and pinch points.
Archery Tag - $1500 / 4 hrs + travel
This team sport can be played by up to 10 people at a time. Teams hide behind the bunkers for protection and come out to hit the other team with foam padded arrows! Our referee staffs the games and calls people out who have been hit. The games setup area is flexible.
Knocker-Soccer - $1200/ 4 hrs + travel
8 Players compete, 4 v 4, to score on the other teams goal!
16" Large Stuff-A-Bears $14.99 + travel
Great for Back-to-School, Welcome Week, Orientation, or just anytime you need a friend! These animals are meant to be hand stuffed and come with stuffing for fast clean use and custom printed t-shirt.
Minimum Order: 200. - $14.99/ bear
Pucker Powder Candy Straws
$1200/4 hrs + travel
The ultimate DIY candy straw. Pick from dozens of flavors to make a unique combination of flavors. Then carry them around and get a Sugar Rush throughout the day! We can place this machine anywhere, not power required, and the students make their own straws!
Game Night - $1500 + travel
Bring the students together with this Larger than Life games that will make everyone laugh.

1) Whack-a-Mole
2) Human Billiards
3) Twister
4) Hungry Hippo
5) Soccer Dart
6) Giant Jenga
Ultimate Sports - $2000/4 hrs + travel

The ultimate sports package includes 9 of the best sports games including Axe Throwing, 9 hole Mini Golf, Archery Shot, Doubleshot Basketball, Football Toss, Speed Pitch, Soccer Kick, Soccer Dart, Human Billiards and Air Hockey.
2 tents, 4 games, IPS lightup shooting gallery, dual axe throw, IPS Target game and more!
Wet 'n Wild $1500 + travel
Includes:
-Water Wars (sling shot)
-Foam Party
-Dual lane Slip 'n Slide
Zorb Balls w/ track
This super popular competition game works for any event.
We specialize in Rock Wall events! Our minimum is 2 hours but we can do up to 8 hours per day and multi day events!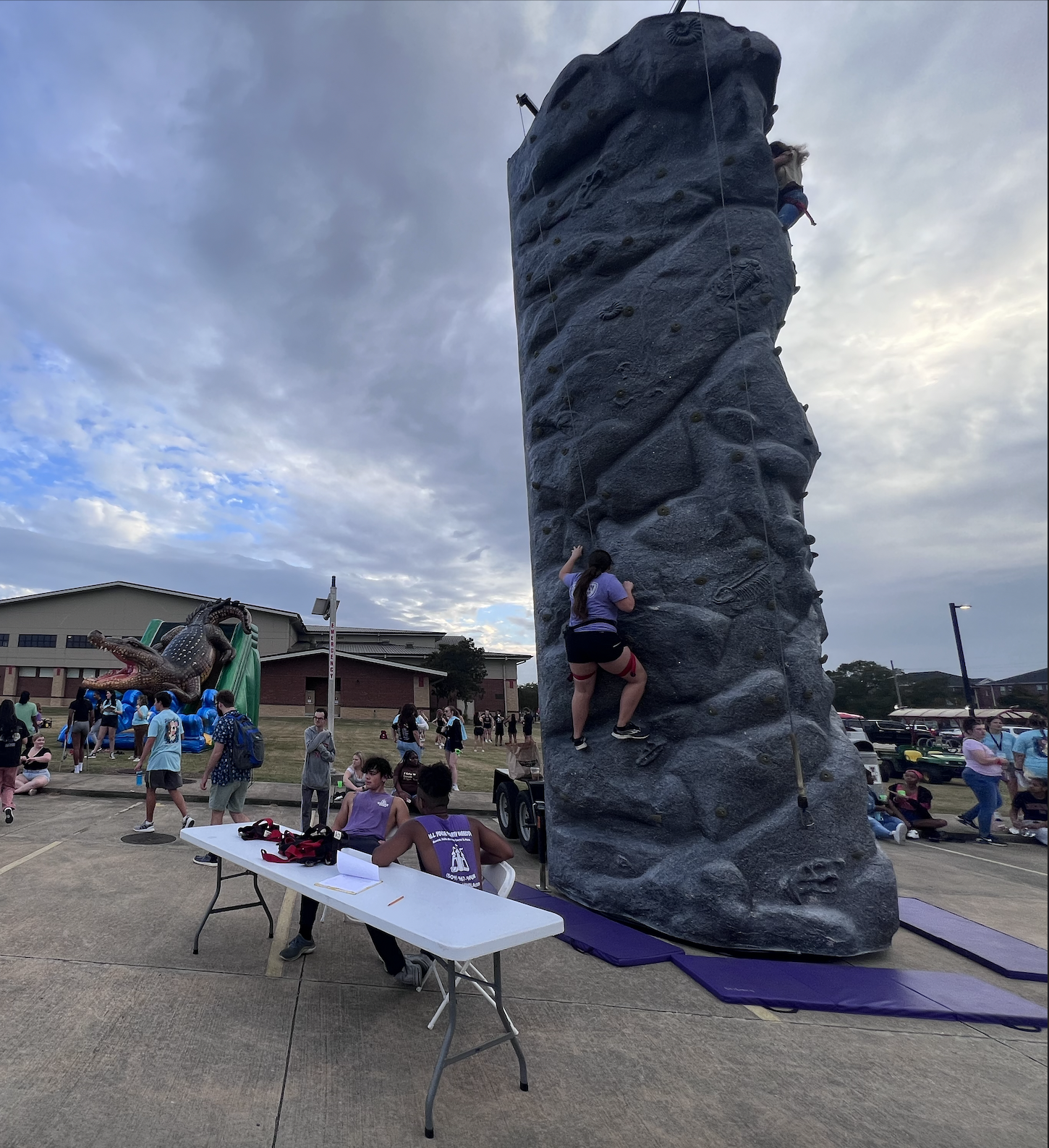 Our Rock Wall is priced depending on the event location, number of staff we need to send based on participants and travel and setup costs. Please contact us for specific pricing.
*Package prices don't include travel and hotel costs.
Call or email for a custom package!
Call or email us what you are interested in and we will send you a package price including travel and other fees. If you aren't sure what you need, just ask and we will be glad to help pick out the right equipment for your event. (504) 467-4FUN
Here is an event we did for ULM
This is a video sent to us from ULM staff. You'll see the Big Ball Jump, Wrecking Ball, Mardi Gras Challenger, & Bungee Run in this video. Book with us and your event can be just as much fun!